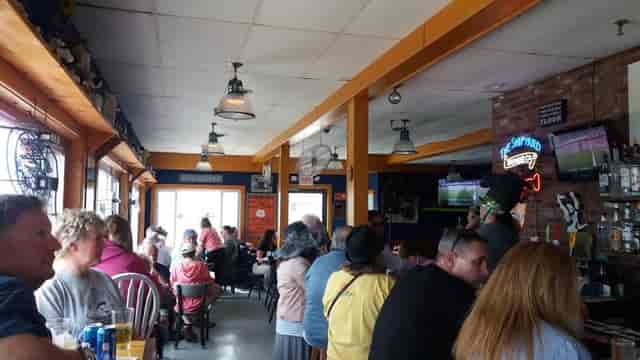 Catering Information
It's party time!
Catering with Sailing Cow
The Sailing Cow Restaurant was established in 1998 as a casual WATERFRONT eating establishment. The owners bring over 30+ years of culinary and business experience. The culinary experience of the staff has been at some of the most prestigious restaurants and resorts worldwide. The Sailing Cow prides itself on its ability to customize the catering experience for each customer.

Our menus can be decided by our awarding winning chefs or assembled by the customers themselves. We find that providing the customer a fully customized menu allows their event to be truly unique.
Accomodations
ON-SITE ACCOMMODATIONS

The Sailing Cow Restaurant provides seating for 80 people. The restaurant has a full liquor license on-site and an assortment of beer and wine; however for any catered event the bar is stocked with the choices of the customer. The restaurant is an ideal setting for rehearsal dinners, bridal showers, bachelor or bachelorette dinners/parties, post wedding day brunches, post wedding day receptions, and smaller weddings (under 70 people).

OFF-SITE CATERING

The Sailing Cow Restaurant does off-site catering as well. For a list of referrals, please ask. Because we offer a truly customized experience, our pricing breakdowns can be discussed.
Pricing
Normal Pricing Includes:

- Rental of facility (if applicable)
- Preparation and serving of food
- All servers
- Bar Services & Bartenders
- Setup and cleanup
- Taxes
- Other Associated Costs

There may be extra fees for special requests. Each customer has a one on one consultation with our Event Planner and a detailed estimate is provided including all costs. The suggested gratuity isl also reflected on the estimate but we leave it to our customers individually to determine the tip amount.
Deposits and Payments
The Sailing Cow does require a non-refundable security deposit when booking the date. The security deposit is 30% of the total costs. The cancellation of an event must be made 2 weeks prior to the event otherwise an additional 25% will be paid to cover cancellation expenses. We ask that a head count be provided 2 weeks before the event and then locked 1 week before the scheduled event. The remaining payment for the event is due the day of the event including any taxes and gratuities.
Special Services/Associations
We have also formed many alliances for additional services if requested. We can arrange:

- Flowers, cakes (weddings, birthdays, bridal shower)
- Tent rental
- Live entertainment with local bands,
- Rental of any furniture, bars, china, glassware, silverware, tables, chairs, etc.
- Ministry Services


These items are priced separately based on what is requested.